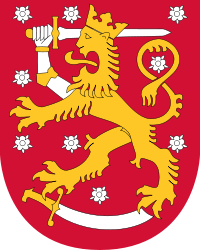 I was thinking about the Finnish coat of arms - a crowned lion holding a sword. Why lion in Finland? I have just checked that it was created in the 1580's after King of Sweden John III became "Grand Duke of Finland" and the lion became linked with the grand-ducal coat of arms. While looking for these information I came across the other symbols of Finland. Quite a lot of the more or less official ones, take a look:
Finland's national flag: a blue Nordic cross on a white background,
national anthem: Maamme (eng. "Our Land"),
national epic: Kalevala,
writer: Aleksis Kivi,
poet: Johan Ludvig Runeberg,
composer: Jean Sibelius,
animal: Brown Bear (fin. ruskeakarhu),
bird: Whooper Swan (fin. laulujoutsen), (displayed on the Finnish 1euro
coin),
fish:
European perch /fin. ahven),
tree: Silver Birch
(fin. rauduskoivu),
flower: Lily of the Valley (fin. kielo),
fruit: cloudberry (
fin. lakka, hilla, valokki or suomuurain),
stone:
granite (fin. granitti
),
insect!:
seven-spot ladybird (fin. seitsenpistepirkko)
. It is also symbol of the Finnish Swedish People's Party,
musical instrument:
the Kantele,
horse:
Finnhorse (fin. suomenhevonen), dog: Finnish spitz (fin. suomen
pystykorva),
and the last but not the least ... a
national personification of Finland is
The Maiden of Finland
(fin.
Suomi-neito). Below: Suomi-neito on the picture from 1906, and the famous painting
by
Eetu Isto
by,
Hyökkäys (eng. Attack) presenting Suomi-neito fighting with the Russian eagle
. Painting comes from 1899, time of Russification in Finland.